of Kronstadt

By Bishop Alexander (Mileant).

Translated by Marina Vraciu/ Seraphim Larin

Contents: The life, miracles, and teachings of our Fr. John (Ioann) of Kronstadt, man of prayer and Wonderworker of all Russia. Selected Thoughts from Father Johnís Diary "My Life in Christ".

aint John of Kronstadt (Ioann Kronstadskij) (Ioann Ilyich Sergiev) was born on 19th October 1829 to a poor family in the village of Sura, an Arhangelsk district. On the day of his birth, fearing that he may not live long, he was baptized immediately with the name of Ioann (John) in memory of St. Ioann of Rylsk, whose life was celebrated by the Orthodox calendar that very day. However, the boy developed and grew stronger. Although his childhood was spent in poverty and deprivation, his devout parents established a strong foundation of faith in him. He was a quiet, focused boy that loved nature and church services.

When John was nine, his father collected their remaining scant resources and took the boy to the diocese school in Arhangelsk. Lamenting the fact that learning did not come easy to him, the boy turned to God for help. Once, late at night when everybody was asleep and he was going through one of his mournful moments, he got up and started to pray fervently. God heard his prayer and bestowed him with Divine Grace, and according to his own expression ó 'it was as if a curtain had suddenly been raised from his eyes.' He remembered all that was taught in class and somehow, everything became clear in his mind. From that point on, he made big progress in his studies. In 1851 John Sergiev graduated from the Seminary with distinction and enrolled in the St. Petersburg Theological Academy.

Life in the capital did not corrupt the youth and he stayed as religious and focused as he was at home. Shortly after his fatherís death and in order to support his mother, John joined the chancellery at the Academy, as a clerk, on a monthly salary of 9 rubles which he sent to his mother. In 1855 he graduated from the Academy with brilliant marks. The same year saw the young graduate ordained and appointed as parish priest to St. Andrews Cathedral at Kronstadt (not far from St. Petersburg).

From the very first day of his ordination, Fr. John dedicated himself entirely to God and began serving the Holy Liturgy daily. He prayed fervently, taught people to lead a righteous life and assisted the needy. His eagerness was amazing. At first some people laughed at him, regarding him not quite normal.

At one time Fr. John taught the Holy Testament. He had an overwhelming influence on his students, and the children loved him dearly. He was not a tedious educator but an interesting interlocutor. He treated his students with warmth and sincerity. He would often side with them and did not flunk them in their exams. While his dialogues were simple, the students remembered them for the rest of their lives. Father John had the ability to kindle faith in people.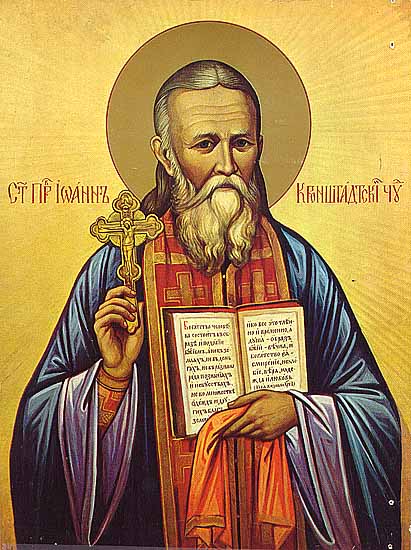 Father John had great compassion toward those suffering and destitute. He despised no one and responded to the first call of the mendicant and the fallen. He would pray in their homes and then often give them everything he had. Sometimes, upon arriving at the house of a needy family and seeing the existing poverty and sickness, he would personally go to the shop for purchases or summon a doctor at the chemist shop.

He never refused to pray for anyone, whether they are rich or poor, famous or unknown. And God received his prayers. During Divine Liturgy, Fr. John prayed fervently, exigently, and boldly. Here is what Archpriest Vassily Shustin wrote after attending as a youth, one of the Liturgies conducted by Father John, "During Great Lent, my father and I traveled to Kronstadt in order to prepare ourselves for the partaking of the Holy Sacraments from Fr. John. As it was impossible to have a private confession on an individual basis, we had to participate in a general confessional. My father and I arrived at St. Andrew's Church long before the first toll of the bell. It was dark ó 4 o'clock in the morning. Although the church was closed, there were quite a lot of people gathered. The day before, we managed to get a pass from the "starosta" (churchwarden) to enter the altar. The altar was quite large and could accommodate up to 100 people. Half an hour later Fr John arrived and commenced the morning service (Matins). By this time the church was packed, even though it could hold about five thousand people. There was a fence in front of the pulpit to hold back the people. Fr. John read the Matins canon himself.

At the conclusion of Matins, the communal confession began. At first the priest read the prayers before confession. Then, after saying a few words about repentance, he called out loudly so that the whole church could hear ó ĎRepent!í Something unimaginable started to happen. Sobs, cries, and vocal confessions of concealed sins erupted among the people. Some tried to exclaim their sins as loudly as possible so that Fr. John might hear and pray for them. Meanwhile, kneeling in front of the altar table and touching it with his forehead, Fr. John prayed ardently. Gradually the cries and shouts turned into crying and sobbing. This continued for 15 minutes. With perspiration pouring down his face, Fr. John stood up and walked out onto the pulpit. Entreaties to him for further prayers broke out from some of the people, but others silenced them and finally the church grew quiet. Lifting up high his epitrachelion and moving it above the bowed heads of the people, Fr. John read out the prayer of absolution. He then re-entered the altar and began the Liturgy.

There were 12 priests serving before the altar table, on which there were 12 huge Chalices and diskoses. Fr. John served very tensely, exclaiming some of the words loudly and appeared to be displaying a particular boldness before God. After all, how many atoning souls did he accept upon himself! Prayers read before Communion were long and many as there were many particles to prepare for the Sacraments. A special reinforced enclosure had been prepared for the Holy Chalice so that it can be supported and protected from being accidentally overturned. At 9 oíclock in the morning, Fr. John began to administer the Holy Sacraments.

On a number of occasions, Batushka had to call out to the people not to push one another. The passageway to the enclosure was maintained by a chain of policemen who controlled the multitude, allowing the communicants to approach the Chalice. Despite the fact that there were two other priests ó at the other two altars ó administering Holy Communion, Fr. John did not finish till after 2 PM, having gone for additional Chalices a number of times. I remained till the end of the Liturgy.

After everyone had partaken of Communion, there were some Holy Sacraments left in the Chalice. Fr. John then called for all those who had not yet taken after-Communion wine to come inside the Altar and form a semi-circle in front of the Table of Oblation. Holding the Chalice in one hand, he administered the remaining Holy Sacraments to them for the second time. This scene of Mystical Supper of Love was incredibly moving. There were no traces of fatigue on the father's joyful face as he congratulated all the communicants. The service and Holy Communion gave us that much enthusiasm and strength, that my father and I did not feel any fatigue. Having received Fr. Johnís blessing, we had a hurried meal and departed for home."

There were people who were unfriendly to Father John ó some out of ignorance others out of jealousy. Once, a group of lay people and a number of clergy being unhappy with him wrote a letter of complaint to the Metropolitan of St. Petersburg, Isidor. The Metropolitan opened the letter and saw before him nothing but a blank sheet of paper. Summoning its authors he demanded an explanation. Their emphatic response was that he was holding the letter that they wrote. The perplexed Metropolitan then called Fr. John to explain what was going on. After Fr John prayed to God, the Metropolitan began to see that what he was holding was indeed a letter of accusation and not a clean sheet of paper. Realizing the miracle that God Himself was defending Fr. John from calumny, the Metropolitan shredded the letter and angrily drove the perpetrators out of his quarters. Then turning to Fr. John, he gently said "Serve God Batushka, and do not be distressed."

Father Johnís prayer was exceptionally powerful. He could heal thousands of people both attendant and those not present. Knowing the power of his prayers, people from not only Kronstadt but from all the corners of Russia and indeed, from overseas turned to him for help. The volume of telegrams and letters to him was so great that the post office in Kronstadt allotted him a personal section. Usually, Fr. John would read his mail (sometimes with the assistance of his secretaries) after Liturgy and then begin to pray fervently for the petitioners. Fr. John healed people of any age and social background, Orthodox and Catholics, Jews and Muslims. These are some of the accounts of healing performed by Fr. John.

One day, a Tartar woman brought her ailing husband in a cart and asked Fr. John to pray for him. Fr. John asked the woman whether she believed in God. When she answered in the affirmative, he said, "Let us pray together. You pray in your way and I shall pray in mine." Upon finishing his prayer, Fr. John blessed the Tartar woman. Getting back to her cart, the woman stopped in wonder because her husband was walking to meet her.

In Kharkov, there lived a Jewish solicitor whose only eight-year old daughter was ill with scarlet fever. Although the best doctors were summoned, the girlís organism could not cope with the illness. The doctors informed the family that the girlís situation was hopeless. While the parentsí grief was profound, the father suddenly remembered that Fr. John of Kronstadt had arrived in town. Having heard of his miracles a long time ago, he ordered a coach and requested to be driven to the street where the gathering multitude awaited to meet Fr. John. Forcing his way through the crowd, he threw himself at Fr. Johnís feet with a plea: "Holy Father, I am a Jew, but I beg of you ó help me!" Father John asked what had happened. "My only daughter is dying. But pray to God and save her," exclaimed the tearful parent. Placing his hand on the father's head, Fr. John lifted his eyes to the sky and started to pray. A minute later he said, "Stand up and go home in peace." When the solicitor neared his house, he saw his wife standing on the balcony, shouting joyfully that their daughter was alive and healthy. Entering the house, he saw his daughter conversing with the doctors ó the same ones who just a few hours ago sentenced her to death and now, not comprehending what had taken place. Later, the girl became Orthodox and was baptized as Valentina.

One possessed woman could not stand Fr. Johnís presence and every time he walked past her home, she would start struggling violently, requiring several strong men to contain her. Nevertheless, one day Fr. John came to her one day. He knelt before the icons and immersed himself in prayer. The possessed woman went into fits of convulsions, began to curse him and blaspheme, and then suddenly went quiet as though lapsing into unconsciousness. When he stood up, his face was covered with perspiration. Approaching the woman, he blessed her. The previously possessed woman opened her eyes and sobbing freely, stooped in front of his feet. This unexpected healing created a powerful impression upon all those present.

However, sometimes Fr. John would apparently foresee Godís will and refuse to pray for a person. One day Fr. John was called to Smolny Hospital, to the bedside of seriously stricken Duchess of Chernogor. Some ten steps away from the hospital, he turned around sharply and spoke in a deep voice: "I cannot pray." The Duchess died a few days later. Other times he would reveal great perseverance in his prayer as he himself witnessed: "Nine times I approached God with all my prayerful zeal and finally the Lord heard me, and raised the stricken."

Father John was not a skilled preacher. He spoke simply and clearly, without the use of rhetoric but from the heart and through this, prevailed and inspired his listeners. His sermons were serialized in print and issued in vast numbers throughout the whole of Russia. Fr. Johnís works made up of several large volumes were also published.

Especially cherished is his diary "My life in Christ." Despite his enormously busy schedule, Fr. John would record daily his thoughts that came to mind during prayer or meditation. These thoughts became the substance of his diary. At the end of this brochure, we will bring some selected contemplations from his diary.

In order to understand the enormity of Fr. Johnís labors, one has to imagine how one of his days passed. Fr. John got up around 3 oíclock every morning and prepared for Liturgy. Around 4am he would go to church to serve Matins. Here, an eagerly awaiting crowd waited for his appearance to receive his blessing. Among them were a large number of beggars seeking alms from him.

Immediately after Matins, Fr. John held a common confessional, as there were always a very large number of participants. Afterwards he served Divine Liturgy, with the administering of Holy Sacraments to the large number of communicants taking up a great deal of time. Immediately after the Service, his mail would be brought to him inside the altar, where he would read it without delay and pray for the petitioners. Then in response to the pleas of countless afflicted people, he would travel to St. Petersburg accompanied by thousands of the faithful. He would seldom return before midnight. Some nights he spent without any sleep ó and so it went day after day, year after year without any respite. To live and work like that could only be possible with Godís supernatural help. His very fame was Fr. Johnís greatest encumbrance. Irrespective where he appeared, a multitude of people would gather instantly, eager to at least catch a glimpse of him.

Hundreds of thousands of rubles passed through Fr. John's hands. He never attempted to count them: he took with one hand and gave away with the other. Beside this instant benevolence, Fr. John established a special relief organization. It was called the "House of the Industry" and opened in Kronstadt in 1882. It had its own church, an elementary school for boys and girls, an orphanage, a hospital for anyone who came there, a boarding house, a free public library, shelter for the homeless that accommodated 40,000 people each year, a variety of workshops where the impoverished were able to earn some money, a cheap public canteen which served about 800 free dinners on holidays, and a hostel for the travelers.

Through his initiative and material support, a rescue station was established on the foreshores of the gulf. He built a beautiful church in his home county. His care and help extended to so many places and districts that it is impossible to enumerate them all.

There are many examples of Fr. John's perspicacity. Once, he was serving a Te Deum (moleben) in a house in the town of Kazan. Among the many present supplicators, there was a professor who disliked Fr. John. At the conclusion of the service, the professor tried to avoid kissing the cross and meeting Fr. John. However, Fr. John addressing him through the crowd said, "Why do you fear the cross, professor? Soon you yourself shall have to give the cross to kiss to others." Under the watchful gaze of those present, the confused professor came up to Fr. John and venerated the cross. Some time later his wife left him, whereupon he entered monasticism and went on to become Bishop and Dean of the Theological Academy in Kazan.

Father John reposed on the 20th of December 1908 on the eightieth year of his life. Accompanied by an innumerable crowd of people from Kronstadt to St. Petersburg, his body was interned in the Ivanovskoe Cemetery ó one that he himself established. People from all the corners of Russia converged to pray at his tomb while the requiem services conducted at his grave were endless. Strong in faith, fervent in prayers and in his love of God and people, Fr. John will always enjoy the love of the Russian people while there are believers among them. Even after his righteous death, he quickly answers all those that pray to him, seeking his help.

Fr. John was of medium build, withered and lean. His hair was fair while his face had a bright rosy freshness. The most outstanding features of Fr. John's face were his clear blue eyes. Some people were even afraid of his piercing gaze because it seemed to them as though Fr. John could look into their very soul. There was an instance where a man flatly refused to meet him face to face as he was afraid that Fr. John might expose something about him in public. While Fr. Johnís eyes were piercing, they also radiated great love and compassion. Through the eyewitness of people who knew him well, the majority of portraits of Fr. John fail to capture the warmth of his gaze.

Troparion

: Wherefore, O wonderworker, who livest in Christ forever, / lovingly have mercy upon those amid misfortunes, / and hearken unto thy children that call upon thee with faith, / O Righteous John, // our beloved pastor.

Kondakion

: O thou who from infancy wast chosen by God, / and in childhood didst miraculously receive from Him the gift of learning, / and wast gloriously called to the priesthood in a vision during sleep, / thou didst prove to be a wonderful shepherd of the Church of Christ, / O Father John, namesake of grace. / Pray to Christ our God // that we all be with thee in the kingdom of the heavens.

St. John of Kronstadt is celebrated on the 1st of November and 2nd of January according to the contemporary (Gregorian) calendar.

from Father Johnís Diary

"My Life in Christ"

Contents: God, His Grace and Concern for people. Faith in God. Prayer. Christian life, zeal, patience, and determination. Struggle with passions. Cleansing one's conscience. Confession. Moderation, Abstinence. Humility, Modesty. Unity with Christ. Love for God and for one's neighbor. About the Church. The demonsí snares.

As the mother teaches her child to walk so also God teaches us to have a living faith in Him. A mother will position a child on its feet, walk away, and then ask the child to come to her. Without the motherís support, the child will cry, wanting to come to her, yet afraid, or in trying to approach her, falls over. In like manner, God teaches the Christian to have faith in Him. Just like a child learning to walk, our faith is feeble. God temporarily abandons a Christian and consigns him to various adversities, and later, when the need arises, delivers him. He directs us to look to Him and go to Him. The Christian attempts to see Him, but a heart untrained in seeing God is fearful of its own boldness, stumbles and falls. But God is near and is ready to take the powerless Christian in His arms. That is why in various sorrows and devilís snares, learn to look upon the Savior with eyes of your heart. Look upon Him boldly as an inexhaustible treasure-trove of goodness and fervently beseech Him for His assistance. And you will receive it instantly. The important thing here is to view the Lord with your heart & have trust in Him as All-goodness. This is the truth taken from experience! This is how God teaches us to acknowledge our frailties and to depend on Him.

How many times, Master Lord Jesus did You restore my being, which I so flippantly corrupted with sin! Countless times! How many times did You deliver me out of the flames of numerous passions that were burning inside me, from the abyss of melancholy and despair! How many times did You restore my corrupted heart by me just invoking Your name with faith? You did this so many times through your life-giving Sacraments. O, Master! There is no end to Your mercy for me sinner. What will I bring You for Your immeasurable grace, Jesus, my Life and contentment! Help me to become vigilant.

God has great respect for beings that He endowed with reason and a free will, especially for Angels and saints. He acts through them to enlighten and save people. Consequently, do not say "I always turn to God directly with my needs." Sometimes, one has to address His saints, as messengers and instruments of His help. God himself does not want people, who have attained a high spiritual level to remain idle and not help those who are not yet strong in their faith. For example, once a mother from Canaan, through her entreaties, obtained the release of her daughter from the devilís possession, while four friends succeeded in having their infirm friend healed, by bringing and placing him at the feet of Christ.

As a creation of His infinite Wisdom, God has total respect toward nature and its laws. He normally implements His will through nature and its laws, punishing or blessing us through various physical elements and lifeís circumstances. Consequently, in the absence of dire need do not demand a miracle from Him.

Without the help of His grace, you would not be able to conquer any one of your carnal lusts. Therefore, always ask for help from Christ your Savior. That is why He came into the world, that is why He suffered, died, and resurrected: to help you in all things, to save you from the tyranny of passions and cleanse you of your sins, to give you strength through the Holy Spirit to perform good deeds, to enlighten you and bring you peace. You ask, "How can I find salvation when there is temptation every step of the way and I sin every minute?" There is a simple answer to this: "With every step and every minute, call upon the Savior. This way you will save yourself and others."

Just as breathing is essential to the body, so is the Holy Spirit essential for the soul. What air is to the body is what Godís Spirit is to the soul. Air is akin to the Spirit of God.

In descending upon the whole universe, the Holy Spirit the Comforter passes through all the faithful, humble, kind-hearted and meek souls, residing, invigorating and strengthening them. He becomes one spirit with them and becomes everything to them ó their light, strength, peace, joy, and success in their endeavors, especially in leading a virtuous life.

How easily and instantly can God save us! Often, I would be a great sinner in daytime, but in the evening after prayer, I would retire absolved, with deep serenity and peace in my heart, and by the Grace of the Holy Spirit, be whiter than snow. How effortless it is for God to save us even in the evening of our life, at the twilight of our days. O, save me, save me Lord, receive me into Your Heavenly Kingdom, for everything is possible for You. Even if we fall, we fall before our Lord. And He is able to make us stand up (Romans 14:4).

When the Savior lived on earth, all those who came into contact with His garments were healed. In the same manner, contemporary people who apply the holy water with faith are healed. After all, a Cross immersed into water with a prayer of faith carries with it the life-giving power of God. Just as the Savior's garments were permeated with His spirit, so is the water in which the life-giving Cross was immersed permeated with His spirit, giving it healing powers.

By inflicting our physical body with illnesses, God destroys our primitive and sinful being so as to give strength to our new being, which we have made impotent through actions of the flesh: gluttony, waste, distractions and various other attachments. "For when I am weak, then I am strong" (2 Cor 12:10) One must accept illnesses with gratitude.

There is a wonderful attribute in faith: just a living thought of God, a sincere faith in Him ó and He is instantly with me; earnest repentance for my sins, and He is with me; kind thought, and He is with me; a reverent feeling, and He is with me. The devil enters into me through thoughts of doubt, fear, pride, anger and other emotions. Therefore, his power over me is limited and it is totally dependent on me. Should I be attentive to myself and in my prayers to Lord Jesus Christ, then he would be completely helpless to inflict any harm upon me.

Disbelief reveals its own falsehood in that it fills the soul with darkness, disturbing unrest and fear. Conversely, faith is always tranquil, joyous, majestic and secure.

How many benefits has my faith in God brought me so far! How many spiritual upheavals and passions of my soul has it chased away, giving me an inner peace? How many times has it corrected the erroneous inclinations of my heart? How many times has it cleansed me from my sins and saved me from spiritual death. And how close God is to us. He is our air that we breathe.

If through negligence, we do not maintain the warmth of faith in our hearts, it may be extinguished totally; possibly Christianity with its life-giving Mysteries would cease to exist for us. The Enemyís sole effort is to extinguish manís faith and force him to forget Christís Teachings. That is why we see people that are Christians in name only, but are total pagans in their deeds.

Prayer is the merger of mind and heart with God, a living conversation with Him, and the reverend presence before the Life-giving Source. Therefore, when praying, forget all your surroundings and stand before God with a deep realization of your inadequacy and unworthiness. A sincere prayer enlightens and enlivens the soul, and gives it a taste of the joys to come. It gives strength to the soul and body, and illuminates the face. It is a golden thread that joins the creature with its Creator. It gives courage and strength in the face of any temptations, assists in achieving success in business, strengthens ones faith and other virtues, helps to improve oneís life, generates tears of atonement and disposes one toward acts of benevolence.

In order to live a Christian life and sustain the spirit within us, private and communal prayers are essential. Just as it is necessary to add oil to an image-lamp so that it does not go out, so is it essential to attend church services and pray there with faith, understanding and fervor. Because through self-restraint a prayer becomes more sincere and fervent, it is necessary to live in moderation and to fast. Nothing extinguishes the spirit within us as quickly as immoderation, overindulgence and a dissipated way of life.

Theatre and other forms of entertainment stifle the Christian life, giving rise to indifference, deceit and idle laughter. Theatre is the enemy of the Christian way of life; it is the offspring of the prince of this world and not that of the Holy Spirit. The true faithful of the Church shun it.

People have lost their faith because they do not pray. Their empty hearts are empty forums for the prince of this world. These individuals do not petition Christ for the life-giving dew of grace from the Holy Spirit, and their hearts corrupted by their very nature, become totally arid and begin to blaze with the fires of Hell as well as other diverse passions. The Devil knows how to inflame this terrible fire further, rejoicing as he gazes at the destruction of the unfortunate souls that have been redeemed by Him, Who had formerly vanquished his dominion.

The only means by which you can spend the day in complete piety, peacefully and without sinning, is a most sincere and fervent prayer in the morning as soon as you awaken. It will bring Christ, the Father and the Holy Spirit into your heart, and thus strengthen the soul to withstand evil.

Pronounce the words of your prayer with a firm heart. For example, when praying in the evening, donít forget to state to the Holy Spirit ó with total sincerity and a contrite heart ó all the transgressions that you have committed during the day. Just a few moments of sincere repentance and you become whiter than snow ó cleansed of all dirt by the Holy Spirit. Thereupon, tears will flow from your eyes as the garment of Christís Truth covers you, and you will be united with Christ, together with the Father and The Holy Spirit.

Sometimes, during a lengthy prayer, only a few minutes of it constitutes that which is pleasing to God and which is of sincere service to Him. The main intention in a prayer is to draw your heart near to God thereby experiencing the redolent presence of Him in your soul.

Let us measure the worth of our prayers by human standards. For instance, sometimes while we have an unfeeling disposition toward people, because of decorum, we thank them hypocritically, or praise them, or do something for them with the absence of sincerity. Other times, we do this with sincerity, warmth and love. Likewise, we act the same with God. Yet this should not be so. We must always speak out genuinely to God our praises, gratitude and entreaties. We must unwaveringly love Him with all our hearts and rely upon him totally.

Often in a casual conversation, people refer to an utterance as a prayer when it is not a prayer at all. For example, an individual went to church, stood there for a while, looked around, listened to some of the singing and later stated, "I prayed to God." Or, he stood before an icon at home, nodded his head a few times and recited perfunctorily some memorized words and declared, "I prayed to God." In reality, in both instances, that person did not pray to God but performed some superficial exercises.

In Godís church, simple, faithful and kind souls are like children in the house of the Heavenly Father ó here they are free and are totally at ease. In church, sincere Christians can foretaste the future Kingdom that has been prepared for them from the day of Creation: future liberation from all sin and death: future tranquillity and joy.

Prayer is the elevation of oneís mind and heart to God. From this it becomes apparent that if a personís mind and heart are attached to something carnal, for example, money, esteem, or has hatred or envy toward others, he is unable to pray. This is because passions bind the heart, whereas God gives it genuine freedom.

Attempt to acquire a child-like simplicity in your dealings with people and in your prayers to God. Simplicity is the greatest blessing and attribute in a human being. God is totally simple because he is totally spiritual, totally good. And donít let your soul be divided into good and evil.

During prayer, remind yourself of the simplicity of truth and say: "Everything is simple!" ó "I believe simply and request simply; but your deceptions, my enemy, your doubts and desires ó I reject." May the basis and source of all your words and deeds be the humble realization of your personal insignificance and the greatness of God ó Creator and controller of everything (1 Cor 12:) He who is infected with pride is inclined to be contemptuous of everything. By its very nature, pride defiles every decent thought, every word and act. It is the death-dealing breath of Satan.

When praying, it is essential to take charge of our heart and direct it towards Christ. It is necessary for it not to be cold and two-faced. Otherwise, of what benefit is our prayer? Is it good to hear our Lordís reprimand: "These people draw near to Me with their mouth, and honor Me with their lips, but their heart is far from Me" (Mat. 15:8). So let us not stand before Christ with a feeble spirit, but let it inflame when we serve Him. After all, even people give little value to our services rendered to them through habit and without feeling. What God wants is precisely our hearts: "My son, give Me thine heart" (Prov. 23:26) Moreover, the heart is the most important part in a person. Consequently, he who does not pray to God with all his heart, is the same as if he had not prayed at all. Our prayer should be all spirit and all comprehensive.

In asking God for various blessings, believe that He is everything to everybody. If you are pleading to Him for health, believe that He is your health; if you are asking for faith ó He is your faith; perhaps love ó He is your love; tranquillity and joy ó He is your tranquillity and joy; assistance in difficult circumstances ó He is your help and protection. Whatever blessing you may ask of Him, He is that specific blessing. If He finds it germane, He will grant you everything that you ask for.

If you want to petition something from God, before praying, prepare yourself toward a resolute, firm faith and well beforehand, take measures against doubt. It would be damaging if during prayer the faith in your heart is exhausted. Therewith donít even think that you will receive what you have asked for, because through doubt you have offended God. The Lord has said that "all things, whatsoever ye shall ask in prayer, believing, ye shall receive" (Mat. 21:22). Therefore if you ask with doubt, you will not be heard. "If ye have faith and doubt not," said He also, "ye shall have power to move mountains." "For let not that man think that he shall receive any thing of the Lord; he is a double minded man, unstable in all his ways" (James 1:7-8). The heart of a person that doubts God can grant anything that is asked of Him, is punished for that disbelief: it is painfully tormented and embarrassed from its skepticism. Do not anger Almighty God with even a shadow of a doubt, especially you who has experienced Godís omnipotence many times. Doubt is a lie that nestles in the heart of the Spirit of lies. Remember that during your entreaty God expects an affirmative answer to the question that He offers you inwardly: "Believe ye that I am able to do this?" You must then respond from the depths of your heart: "Yea, Lord!" (Mat. 9:28). Only then will it be according to your faith. The following thoughts may assist you not to surrender to doubt. I am asking for an existing and not an imaginary or fantastical blessing that exists, as everything that exists had their beginning from God, and "without Him was not anything made that was made" (John 1:3). Besides that, He calls the non-existing real (Rom 4:17). This means that if I asked Him something that does not exist, He would be able to create it and give it to me. I ask for what is possible, but for God even what is not possible for us is possible for Him. Therefore, even from this aspect there is no obstacle. Our misfortune lies in that our faith is admixtured by myopic reason ó that spider that catches the truth with its webs of determinations and analogies. Faith embraces and perceives everything immediately, while reason arrives at the truth in a circuitous manner. Faith is the means of communion by a spirit, with the Spirit, while reason is the means of feeling having communion with sensual. One is spirit, the other flesh.

Our hope of obtaining that which we ask for during prayer is based upon our faith in Gods goodness. In saying: "Because God is merciful and generous and is the Lover of mankind," we remind ourselves of the countless instances of Godís grace bestowed upon those people mentioned in the Holy Scriptures and in the writings on the lives of the saints, as well as upon ourselves. That is why the success to a prayer is assisted by the knowledge to a person that had already received what he asked for in the past ó when he prayed with a firm belief in his heart. We always receive that what we ask for when it pertains to the salvation of our soul. Everything good has to be attributed to God and not some chance happeningÖ Many people do not pray because it seems to them that God does not hear their prayers. Others regard prayer as unnecessary, citing that God knows our needs even prior to our asking. What they forget is: "Ask, and it shall be given unto you; seek, and ye shall find; knock, and it shall be opened unto you" (Mat. 7:7). Prayer is particularly essential for strengthening our faith, through which alone can we be saved. It is said: "By grace are we saved through faith" (Ephes. 2:8). "O woman, great is thy faith!" (Mat. 15:28). That is why Christ forced the Canaanite woman to ask with intensity, so as to arouse her faith.

In praying to the Mother of God, the angels and saints, we acknowledge them as being the one mysterious body of the Church to which we too belong, and we also believe that through their love for us, they are praying to God for our salvation. In praying for the repose of the dead, we too regard them as being one spiritual body with us and we wish them peace and tranquillity in the immortal land, professing that they are alive spiritually.

Our inner being can see more clearly in the morning when its spiritual eyes have not yet been clouded with earthly cares and temptations of the Deceiver. Because then, it is like a fish that has risen from the depths of the sea to the surface. The rest of the time, it is shrouded with a near impenetrable gloom; its eyes are covered with a sickly blindfold that hides the genuine order of things. That is why you should capture the morning hours. These are like hours from a new, renovated life to be. They indicate to us the state we will be in when we arise rejuvenated in the morning of the nightless day of the General Resurrection.

Take upon yourself to lead at least one day in accordance with Godís laws, and you will see for yourself how good it is to fulfil the will of God. At least come to love God in the same way as you love your parents and your benefactors; appraise His love and grace toward you according to your evaluative powers. Mentally examine how He gave you life and with it, all its blessings; how He tolerates your frequent sinning with long-suffering forbearance; how He endlessly forgives your sins through the power of the suffering and death of His only Son on the Cross; remember what joy he has offered you in eternity if you are faithful to Him. Furthermore, love every human being i.e. do not wish him anything that you would not wish for yourself; contemplate, feel for him like you would for yourself; do not see in him that, that you would not want to see in yourself; let your memory forget the wrongs that have been inflicted upon you by others, just as you hope that your wrongs will be forgotten by others; do not suspect others in anything criminal or unchaste and imagine others as being good intentioned as you yourself are. At least do not inflict upon others that which you would not inflict upon yourself, and your heart will experience such tranquillity ó such joy! You will be in Heaven before the advent of Heaven. "The kingdom of God is within you," says God (Luke 17:21). "Whoever lives in love ó teaches the Apostle ó lives in God, and God in him" (1 John 7:16).

Begin to fulfil commandments relating to small things and you will accomplish the fulfillment of larger ones: all small things lead to larger ones. At least attempt to fulfil the dictate of fasting on Wednesdays and Fridays, or the tenth Commandment relating to evil thoughts and desires, and you will carry out all the commandments, "but the unfaithful in minor things is unfaithful in major ones."

When our flesh is infirm, it is despondent and complaining, but when it indulges in physical pleasures, it rejoices and bounces. Do not pay any attention to the deceitful feelings of the flesh. You must learn to reject all carnal wiles and sensations. You need to endure all sorrows and sicknesses patiently, be strong in spirit and place all your reliance on God.

Life is a great science that is not easily acquired. It is a constrictive path and a narrow gate. He who has not started from childhood (guided by the New Testament) to learn this study: has not learned to believe in God: is not used to venerating Him: is unable to clearly discern good from evil ó will find it difficult to acquire this in the ensuing years of his life. Although others will consider him as being clever and acknowledge his learning and abilities, in the school of life he may turn out to be a total ignoramus. He might not prove to be effectual neither in family life nor societal activity e.g. because of his intractable character or other bad habits. Just like a loaded ship that sails into the open sea without a rudder, tackle or sails, he too may sustain a catastrophe in his life.

The science of sciences is the conquering of active passions within us. An example of great wisdom is not to be angry at, and not to speak ill of anyone even though they may have inflicted hurt upon us. Wisdom is to despise avarice and love benevolence, despise delicacies and be content with simple fare, eaten in moderation. Wisdom is not to indulge in flattery but to speak the truth boldly; wisdom is not to be captivated by the beauty of a face but to respect in every person the beauty of the image of God. Wisdom is to love your enemies and not seek revenge through deed, word or thought. Wisdom is not to accumulate wealth but to give alms to the poor in order to obtain treasures in Heaven. Alas! We have mastered almost all the sciences yet we have not learned at all how to distance ourselves away from sin and as a consequence, we often appear as total ignoramuses in the science on ethics. And it turns out to be that the truly wise were saints, disciples of the Teacher-Christ while we, the so-called erudite are ignoramuses, and often the more scholarly we are, the more ignorant are we because enslaved by various passions, we have not recognized that which is most important.

Those people that attempt to live spiritual lives experience the most subtle and difficult conflicts with their thoughts. One must continually watch oneís thoughts and reject those that are from the devil. Our hearts need to always be afire with faith, humility and love. Otherwise it may be inhabited by the devilís invidiousness and with it ó diminution of faith and every other evil that will be difficult to wash away even with tears. Consequently, do not allow your heart to grow cold, especially during prayer; avoid cold indifference completelyÖ..Pray and strengthen yourself and your heart.

We have a reliable barometer, which indicates the expansion or the decline of our spiritual life and that is ó our heart. It can also be called a compass that shows us which way to swim. It reveals whether we are travelling toward the spiritual East ó Christ, or headed West ó toward the dark domain of the devil, this sovereign of death. Therefore, watch your inner compass attentively and it will show you the true path.

The conscience of each person is a ray of light from the sole, all-enlightening spiritual Sun-God. Like a Just and Almighty King, it is through this conscience that the Lord God controls each and everyone. And how mighty is His sovereignty through the conscience! Nobody is powerful enough to silence its voice totally. Like the voice of God Himself, it speaks to each and everyone without any bias! Thanks to our conscience, we are all as one with God. That is why the Ten Commandments are directed as though to one person: "I am the Lord, thy God. Thou shalt have no other gods before MeÖThou shalt not carve imagesÖRemember to keep the Sabbath Day holy...Honor thy father and thy mother...Thou shalt not killÖThou shalt not commit adultery" etc. (Exodus 20:1-17) Or, "Love the Lord your God with all your heart and with all your soulÖand your neighbor as yourself" (Mark 12:30-31), because he is exactly the same me.

Throughout your life, watch over your heart and notice those things that hinder its union with God. Let this be your science of sciences and with Godís help, you will get accustomed to perceiving quickly what distances you away from God and what draws you nearer to Him. The Deceiver strives very hard to stand between our heart and God. It is precisely he who distances us from God with various passions: carnal lust of the body, lust through the eyes and earthly pride.

Distinguish between the Life-giving Spirit and the spirit of death within yourself. When your soul has good thoughts, you feel good and buoyant, you experience tranquillity and joy: this indicates that the Holy Spirit is in you. Whereas when you have unkind thoughts or unkind inclinations of the heart, you feel burdened and troubled. This indicates that the evil spirit is within you. The evil spirit is the spirit of doubt, disbelief, passion, constriction, sorrow, confusion; whereas the righteous spirit is the spirit of unshakable faith, spirit of benevolence, spirit of spiritual freedom and expanse, spirit of peace and joy. Through these indicators, ascertain what spirit is active within you.

"He who is not with Me is against Me, and he who does not gather with Me, scatters" (Luke 11:23). Throughout your life, you must aspire to progress in your spiritual life, advancing higher and higher, ever increasing the abundance of your benevolence. If we remain static in our moral completeness, it would the same as if we were sliding backwards. Not to acquire something is the same as losing it.

Be balanced in all religious matters because even goodness has to be sensible, in accordance with ability, time and place. For example, it is good to pray with an unimpaired heart, but as soon as prayer ceases to correspond with the physical vigor; with a variety of circumstances, of place and time, it will then no longer be good. That is why Apostle Peter teaches, "Make every effort to add to your faith goodness; and to goodness, knowledge; and to knowledge self-control, and to self-control, perseverance" (2 Peter 1:5-6).

The day is a symbol of the fleetness of earthly life: morning comes, then day, thereupon evening, and with the advent of night, the whole day had passed. Life will pass the same way. Just like early morning, first there is childhood, then just as full sunrise and midday, adolescence and adulthood ó thereafter, God willing, just like evening, old age ó and then unavoidable death.

Ever since Man fell from Godís grace, just like a formerly domesticated animal that has turned feral, he views his previous place of habitat reluctantly. It likes the gloom of the forest i.e. present world, better than the light of its former place i.e. Godís Heaven. It is difficult for a person to unite with God and when he does, he soon falls away from Him. It is difficult for him to believe in God and all the things that God had revealed to him.

Looking upon Godís earth, I see the extraordinary magnitude and playfulness of life: in the animal kingdom, among quadrupeds, among reptiles, insects, birds and fish. Now it may be asked: where does the pressure and sorrows come from to those that attempt to live virtuous lives? After all, God has diffused life, abundance, joy and expanse everywhere. With the exception of Man, all creatures exalt the Creator by their contentment and playful happiness. Am I not a creation of the same Creator? The key to this riddle is simple: our life is contaminated by our sins and by the incorporeal enemy. He especially attacks those who have committed themselves to a life of piety. Consequently, the true life of an individual is ahead ó in the eternal age. There, all joys and total contentment shall be revealed to him. Here, he is only an outcast that is under punishment. Sometimes, it is as though the whole of Nature is against him. So I am not perplexed by the fact that everywhere in the world there is happiness and abundance, while within me there is misery. We all have an executioner for our sins, who is always with us and punishes us. But there will be joys for us also, only not here but in the next world.

Firmly remember that you are a dual person: one ó carnal, primeval and afflicted with passions. He must be subdued and not yielded to, with his insistent, sinful demands. The other is the spiritual, new, Christ-seeking, living with Christ and acquiring peace and life in Him. Just as you need to apply all measures to despise the demands of the first personage, because their acceptance would be lethal for your soul, you need to apply all measures to fulfil the demands of the latter, because it leads toward eternal life. Take upon yourself the task of doing that which you have understood.

Come to know your soulís wretchedness and constantly and earnestly pray to the Savior that He might save you too. Donít say to yourself: " I am secure, I do not need to worry about anything." The trouble is that you, being in great misery, cannot see it. Your misery is your sins.

How I am corrupted by sin! Something bad and unchaste comes quickly to mind and gets an immediate response in the heart, while that of good and holy is often thought of and spoken about, but is not sensed. Woe is me! Up to now evil is closer to my heart than good. As soon as I think of something wicked, I am ready to do it instantly, and would have done it, and only the fear of God or circumstances restrained me. However to do good is often only desired by the inner person, but lacking in strength or determination to carry it out (Rom. 7:18-19). Often, a conceived good-intentioned act is deferred by placing it into the bottom of the drawer.

A large section of people voluntarily carry the satanic burden in their hearts and because they are so used to it, do not feel it. Sometimes, the malicious enemy doubles their load and then they begin to despair, remonstrate and even blaspheme against Godís name. The usual method to diffuse their internal burden by the people of this contemporary age is ó the theatre, nights out, cards, and dances. But afterwards, the feelings of tedium and discontentment return with even greater intensity. How many people "Öwho have forsaken God, the Spring of living water and have dug their own cisterns, broken cisterns that can hold no water" (Jer. 2:13). Only when people turn to God do their burdens of sin fall away from their hearts and they begin to realize the reasons for their discontentment, as well as how to combat them.

Let no one think that sin is something insignificant. No, sin is a frightful evil that kills the soul! In the world hereafter, the sinner will be bound hand and foot and thrown into hellish darkness. Our Savior says, "Bind him hand and foot, and take him away, and cast him into outer darkness" (Mat. 22:13). Consequently, it follows that the sinner loses all his spiritual powers. Having being created with an ability for independent activity, they will find themselves fettered with some fatal inertia toward creating good. The sinners will realize within themselves, their individual spiritual abilities and at the same time feel constrained by some unbreakable chains. They will find themselves prisoners of their own sins (Prov. 5:22). Add to this the agony from their realization of their negligence, which displeased the Creator. After all, even in our present existence sin binds and kills the soul. Who among the true believers does not know what sorrow and constriction strikes the soul, what scorching fire rages in the breast after committing any type of sin? For example, if it happens that a God-fearing person retires for the night without repenting a sin that was committed during the day, his conscience will disturb and dismay him all night, until such time as he gets up, sincerely atones for his sin and washes it away with his tears. (This is from experience). Now let us imagine that this man, tortured by his sin, is suddenly taken by death during the night. Is it not obvious that the soul will depart into the next life in torment? And since there is no room for repentance, it will forever suffer in accordance to the gravity of its sins. The Holy Scripture testifies to this (Mat. 25:46; Rom. 2:6, Cor. 5:10 and others).

Like a fog, earthly cares blanket the mental horizon of the soul and obscures the vision of the heart. Therefore, teach yourself not to worry about anything and leave all your sorrows and worries to God. Do not worry when you have to expend in order to assist the needy: this will lead to gr eater generosities from God to you.

Cleansing one's conscience. Confession

A frightening truth. After death, unrepentant sinners lose all opportunities to change for the better, and this means that they will remain unchanged, committed to eternal torment. How can this be proved? This is manifestly proven by the real condition of some sinners and the nature of the sin itself ó holding the person in its prison, barring him all avenues of escape. Who does not know how difficult it is for a sinner to divert himself from his path of sin that he loves so well, toward the path of righteousness! How deep are the roots of sin in the heart of a sinner; how it alters the very vision of a sinner so that he perceives things differently to what they really are, and recognizes the repulsive as appealing. That is why we see sinners often do not see their own downfall and do not think of turning to God for redemption: vanity and pride have blinded them. When they do begin to acknowledge themselves as sinners, they surrender themselves to despondency, which spreads a deep gloom in their minds and hardens their hearts. If it werenít for Godís grace, what sinner would turn to Him? At the same time, the time and place for Godís grace to be effective, is definitely in this world only. After death, only the prayers of the Church can react on that soul which has retained its receptiveness to spiritual light, due to its former good deeds. Unrepentant sinners are without a doubt, sons of perdition.

When you have sinned and your sins burn and torment you, run quickly to the Only Living and Eternal Sacrifice of sins, and place all your sins before It. You will not find salvation in any other way. Donít even think of saving yourself, by yourself.

Why is it that a sinful soul does not receive forgiveness for its sins until after it has deeply felt all their delinquency and destructiveness? Because, while sinning it accepted them as being pleasant and admirable, now in repenting, it has to acknowledge them as being calamitous and deceitful. Just as the desire to sin is born in the heart, so must the deliverance from it be accompanied with pain in the heart.

Genuine repentance is aided by conscience, memory, imagination, feeling and will. As we sin with all the powers of our soul, so should we repent with all our soul. Repentance in words only, without any intention to reform and without any feeling of contrition is called hypocritical. Realization of sin is dimmed from a negligent lifestyle ó it needs to be illuminated; feeling becomes dulled ó it needs to be awakened; the will weakens ó it needs to be forced. It is said: "Öthe Kingdom of Heaven suffers violence, and the violent take it by force" (Mat 11:12). Consequently, a confession should be heartfelt, deep and complete.

Where does fasting and repentance lead to? Why the effort? They lead to the cleansing of sin, spiritual tranquillity and unification with God. There are reasons why we should fast and repent from the bottom of the heart. There is an invaluable reward for a labor of conscience. But do many of us have filial love toward God? Do many of us invoke with warm feelings our Heavenly Father, with the words of Our Father? Is it not the opposite, that in our hearts no filial voice can be heard because earthly cares and attachment to pleasures have stifled it? Yes, we deserve His righteous punishment in accordance with our sins; and it is astonishing that He shows such prolonged forbearance and doesnít cut us down like barren fig trees. Therefore, let us with all strictness, examine our polluted hearts and behold how much impurity obstructs the entry of Divine Grace into them, and hasten to propitiate God with tears of repentance.

In comparing confession to an operation, it can be said: you will endure a difficult and painful operation, and because of it you will become healthy. This means that in a confessional, all your disgraceful deeds (without concealing any) must be revealed to your spiritual father, even though it will be painful, and shameful, and demeaning for you. Otherwise, the wound will not be healed, it will undermine the spiritual health and the infection will spread into other healthy parts. A priest is a spiritual physician. Show him your wounds, unashamedly, openly, with childish trust: after all, your father confessor is your spiritual father. He is entrusted with love for his spiritual children, and the love of Christ is greater than physical love. He has to answer for you before God. Why has our life become so unchaste, full of passions and sinful habits? Because many hide their spiritual ulcers, which ache and inflame further.

He who gets used to give an account of his actions in a confessional in this life, will not be frightened to give an account on Christís Judgement Day. That is why this brief tribunal of repentance had been established so that we, cleansed and reformed, can give an unashamed response at Christís judgement day. Realization of this fact must prompt us to confess our sins at least once a year. The longer we postpone our repentance, the more we get snarled in our sinful entanglement, and the more difficult it will be to sort things out in oneís heart. And conversely: the more sincere the confession, the more tranquillity for the soul. Sins are furtive snakes, gnawing at a personís heart and giving him no peace. Sins are prickly thorns embedded into the soul. Sins are spiritual darkness. In order to completely rid yourself of ulcerous sin, produce fruits of repentance.

In order to scourge your pride with an honest acknowledgment and feel revulsion toward your sins, you need to confess more frequently. Think of the misery that sin has thrust you into and what the Lord Christ had done for your salvation. Remember His incarnation, His approach toward people, His teachings and His miracles: remember the many derisions He tolerated, revilement, being spat upon and beatings, and how He finally accepted the agonizing crucifixion on the cross, shameful death and burial, and then in Divine glory, Resurrected from the dead. All this He did in order to deliver you from eternal torment. Therefore, commit yourself totally to Him, your Benefactor, live for Him, fulfilling His commandments. Avoid everything which thrusts you into sin, such as: desires of the flesh, desires through sight and worldly pride; crucify your flesh with its desires and lusts; save your soul through patience, love God and your neighbor as you would yourself.

We say: If I hadnít seen it, I would not have been tempted, if I hadnít heard it, my heart would not have ached, if I hadnít tasted it, I would not have wanted itÖYou see how much temptation comes from our eyes, hearing and taste. Not being resolute in their hearts with good intentions, many people suffer from having glanced carelessly with lustful eyes, listened with ears that are not accustomed to differentiate between good and evil, savored with a voracious taste. Unrestrained by reason and Godís commandments, the sin-loving and rapacious flesh had induced them into various earthly passions, obscured their minds and hearts, deprived them of inner peace and enslaved them. How careful one must look, hear, taste, smell, feel ó how one must preserve oneís heart, so that through our external feelings, no sin will enter it as though through a window, and worst still ó the devil himself, to vanquish us with his lethal poison.

If you throw yourself upon food and drink with voracity, then you will be flesh, but if you fast and pray, you will be spirit. "Do not get drunk on wineÖinstead be filled with Spirit" (Ephes. 5:18). Fast and pray, and you will accomplish a great deed. One who is repleted is incapable of accomplishments.

Just as a newborn child is unconcerned to what he is wearing, so should the Christian ó child in Christ ó be indifferent to the variety and sophistication of garments, regarding Christ as his best attire, just as it is written: "For all of you who have been baptized into Christ have clothed yourselves with Christ" (Gal. 3:27). But a passion for expensive and sumptuous clothing is appropriate for people of this age "For the pagans run after all these things" (Mat. 6:32). Exquisite clothing is the idol for people of this age. O how earthly-minded are we, who have been summoned to commune with God ó who has promised us an inheritance of incorruptible and eternal blessings! How unclear are is our understanding of incorruptible blessings. How senseless are we when we attach significance to trivial matters and do not value incorruptible blessings: spiritual peace and joy, nearness to God, treasures of virtue, piety, everlasting joy in the next world. Therefore, you should learn how to value spiritual blessings and despise the corporeal as perishable and insignificant.

As much as you can, be meek, humble and open, considering yourself as being genuinely inferior to, more sinful and weaker than, everybody else. Tell yourself: "Among sinners I am the foremost one." Pomposity and frigid, insincere behavior towards your neighbors emanates from pride.

Watch attentively for the emergence of pride: it creeps through inconspicuously, especially when you are aggrieved at someone for the most unimportant reason.

If you want to be humble, then regard yourself as deserving of all types of animosity and slander from others. Do not get irritated when you are reproached or denigrated. Just say, "May Your will be done, Holy Father." Remember what the Savior said: "No servant is greater than his masterÖ. If the world hates you keep in mind that it hated Me first" (John 13:16; 15:18).

Remember the pronouncements of the Holy Scripture, "Do not be overcome by evil, but overcome evil with good" (Romans 12:21). When people are rude to you, irritate you, breathe contempt and malice at you, do not repay them likewise, but be gentle, meek and kind, respectful and loving towards those very persons that are behaving unworthily before you. If you get upset and commence to object agitatedly, speak rudely and contemptuously, it means that you yourself have been overwhelmed by evil and deserving of the saying: "Physician, heal thyself," or: "And why do you look at the speck in your brotherís eye, but do not consider the plank in your own eye?... First remove the plank from your own eye" (Luke 4:23, Mat. 7:3,5). Do not wonder then, if these affronts against you are repeated: in noticing your weakness, your ill wishers will take advantage of it. Thus, "do not be overcome by evil but overcome evil with good" (Romans 12:21). Let the one who has insulted you know that he has not offended you, but only himself. Feel sorry for him because he is so easily overcome by his passions and is spiritually ill. The more ill-mannered and irritated he becomes, the greater the meekness and love should be shown by you. This way, you will definitely triumph over him. Good is always stronger than evil and is therefore always victorious. Remember also that we are all frail and easily overcome by passions. Consequently, be meek and accommodating to those sinning against you. After all, you too are afflicted with the same condition as your brother. Forgive the debts of your debtors, so that your Heavenly Father will forgive you your debts.

An individual that has malice against us is a sick person. He needs a poultice of love applied to his heart. You need to treat him gently, talk to him affectionately, and if his rancour has not taken root within him but was caused by a sudden fit of anger, then watch how his heart will melt from your love. A Christian has to be wise in order to conquer evil with good.

Although you do not feel like praying for a person that despises you, pray for that very reason; because of this, hasten to the Healer as you too are afflicted with malice and pride, just as the one who despises you. Pray, so that God will teach you benignity and patience, so that He will strengthen your love ó not only for those that wish you well but for your enemies, so that He may instruct you how to pray for your enemies as earnestly as you do for your well-wishers.

The aim of our life is to unite with Christ. In this life, we unite with Him by faith, hope and love, while in the life to come ó in a complete manner. But look how we distort this aim. We attach our hearts to various matters so that (how frightful), our love turns to money, to food, drink, attire, dwelling, finery, or to people that we like ó to the point of forgetting God. Because of our attachment to earthly blessings, we boast, envy, hate, lie ó and we then unite with the devil, this conveyor of evil. By this, we offend our Lord and distort His image and likeness within us. Indeed, we give very little thought to that which should be of paramount importance to us ó uniting with God!

If through frequent communion of the Holy Sacraments Christ is within you, then be like Christ: meek, humble, patient, full of love, indifferent toward the worldly, meditate on Heaven, obedient, sensible; carry His Spirit within you, without fail.

Having Christ within you, fear that you might lose Him and with that, the serenity in your heart. It is difficult to begin again. After falling away, efforts to reattach yourself to Him will cost you many bitter tears. Hold on to Christ with all your might and do not lose your boldness before Him.

The life of the heart is love, and its death is anger and animosity. God keeps us on earth so that our hearts may be permeated with love: this is the purpose of our temporal life in this world.

Our love towards God emerges and acts in us when we begin to love our neighbor as we do ourselves: when for him ó this image of God ó we do not spare ourselves or anything material, when we utilize everything we can in our attempts to save him; when for the sake of pleasing God, we deny satisfaction to our stomach, this corporeal perception, when we conquer our carnal reason with Godís reason. The Holy Scripture teaches: "For anyone who has not loved his brother, whom he has seen, cannot love God, whom he has not seen" and "those who are Christís have crucified the flesh with its passions and desires" (1 John 4:20; Gal. 5:24).

Remember that the Lord is in every Christian. When your neighbor comes to you, have the utmost respect for him as God is in him. Often, God expresses His will through people: "For it is God who works in you to will and to act according to his good purpose" (Philippians 2:13). Just as you would not spare anything for God, do not spare anything for your brother. Be sincere, kind and joyful toward everyone. Remember, that sometimes God disposes the hearts of the unbelievers towards us, as it happened in Egypt when through Godís intervention, Joseph received a favorable disposition from his dungeon-keeper (Gen. 39:21).

Remember that to God, a human is a great and precious being. But after its fall, this great creation became weak, subordinate to many weaknesses. In loving and respecting him as the bearer of the Creatorís image, bear also his weaknesses ó diverse passions and unseemly acts ó as those of a sick person. It is said: "We who are strong enough to bear with the infirmities of the weak, and not to please ourselves"Ö "Carry each others burdens, and in this way you will fulfil the law of Christ" (Romans 15:1, Gal 6:2).

Love every person, regardless of his sinful state. Sin is sin, but the basis of a human being is one and only ó the image of God. Sometimes, the weaknesses of people are apparent when, for example, they are malicious, proud, envious, stingy, greedy. But remember, that you yourself are not without evil, and perhaps, there may be more of it in you than in others. In any case, with regard to sin, all people are alike; "For all have sinned and fall short of the glory of God" (Romans 3:23); we all are guilty before God and we are all in need of His mercy. That is why we have to tolerate and mutually forgive one another, so that our Heavenly Father may forgive us our transgressions (Mat. 6:14). Look how much God loves us, how much He has done and continues to do for us, how He punishes us lightly yet pardons us so abundantly and benevolently!

If you want to reform someone from his deficiencies, do not think of improving him with your own abilities only, as we do more harm than good, for example, through our pride and irritability. But "cast your cares on the Lord and He will sustain you" (Psalms 54:23) and pray to Him with all your heart, so that He Himself may enlighten the mind and heart of the individual. If He sees that your prayer is penetrated with love, then it would undoubtedly be answered, and you would quickly see the change in that person that you are praying for. It is the work of "the right hand of the Most High" (Psalms 77:10).

As a true Christian that is trying to accumulate as many benevolent deeds and treasures of love as possible, rejoice at every opportunity to show kindness to your neighbor. Do not look for kindness and love, and regard yourself as being unworthy of them. Above all else, rejoice when an opportunity arises for you to help someone. Express your love plainly, without any backward thought or any thoughts of personal gain and remember ó God is love. Simple creature, remember that He sees all your thoughts and the behavior of your heart.

Be bold and decisive in every act of goodness, in words of endearment and in your participation ó especially in matters of compassion and help. Anticipate the feelings of despondency and feebleness whenever you consider performing a good deed. Say, "Even though I am a foremost sinner, ĎI can do everything through Him who gives me strengthÖ Everything is possible for him who believesí" (Phil. 4:13, Mark 9:23).

The Church is the great family of God, in which God is the Father, the Virgin Mary is our Mother, the Angels and saintly people are our elder brothers, and we are all brothers, born through the same baptismal font in the Church, enlivened by the one and only Holy Spirit... Protestants, through their severing of prayerful contact with the Saints, have lost their contact with the Church.

To live in Christís Church means sensing the nearness of God, and at the same time, the nearness of the Heavenly Church ó nearness, not only in the sense of historical remembrances or church inheritance but like an authentic, real prayerful closeness with the Apostles, martyrs, saints, holy fathers and all the righteous that dwell within it. To live within the Church means to come into contact with the spiritual world and open your heart wider for the entry of Godís grace. The partaking of Christís Flesh and Blood, mystery of the Church and communal prayer are the means God gave to elevate us from the earthly to the heavenly.

The Enemy of mankind takes up arms against us through people under his control; through the proud ó by humiliation and contempt; through the miss-believer ó disbelief, free-thinking and blasphemy; through cruel leaders ó tyranny and oppression; through gluttons ó enticements toward delicacies, gluttony and drunkenness; through the debauched ó loss of chastity and disposition toward depravity; through thieves ó plunder of our property. He torments us with those that hate and envy us; through greedy individuals, he deprives us of food, clothing and housing. Through Godís permission, being prince of this world and ruler of darkness (John 16:11, Ephes. 6:12), utilizing all the resources accessible to him and applying all types of illusions and persecutions, he enrages the human race and attempts to bend everyone to his side. If the All-wise, All-good and Almighty Heavenly Father did not care about us constantly, and did not convert the seducerís countless acts of cunningness into beneficial outcomes, then the incorporeal monster would have conquered the whole world for himself a long time ago, and there would have been no holy seed left (Isaiah 6:13).

When the devil penetrates into our heart, the soul then becomes unusually constricted and gloomy, everything begins to annoy it and it feels revulsion towards anything good; it sees evil intent in the words or acts of others and therefore feels a murderous hatred towards them, rages and surges towards vengeance. "Therefore by their fruits you will know them" (Mat. 7:20).

Do not be merciless judges of those people that labor for God and that sometimes act contrary to the Christian principles of piety, which they endorse and honor. Itís the devil, their evil antagonist that places them in their self-contradictory position. He bites deep into their hearts and compels them to act against their own convictions.

When your heart is stunned by the invisible enemy, causing you confusion, constriction and a fall in spirit, donít lecture, so that instead of good you donít bring temptation. At the same time, do not reprimand as this will only irritate and not improve matters. Generally speaking, when the enemy is nesting in the soul, you must be more silent because then we are not worthy of words, which are gifts from God-Word. Expel your enemy and induct peace into you heart ó and then speak.

Missionary Leaflet # EA10

Copyright © 2001 Holy Trinity Orthodox Mission

466 Foothill Blvd, Box 397, La Canada, Ca 91011

Editor: Bishop Alexander (Mileant)

(johnkr2_e.doc, 10-10-2001)

Edited by Donald Shufran